Woodhills Settings - LOCATION
Woodhills Settings is ideally located at the highest point allowing one to enjoy the stunning view of the sunrise and sunset.  The location is undoubtedly one the magnificent places that one would dream of living. 
The area is also surrounded by necessary amenities that make life on the Woodhills more comfortable and manageable.  The nearby establishments include:
Commercial and Recreation Facilities – These includes businesses, malls, shopping centers and restaurants that are easily accessible either by walking, riding or driving.  Calamba city is mainly known for its classy shopping malls and restaurants that serve unique, tasty dishes. An outing with the family or loved one is easy to plan when living in the Woodhills Setting.  The commercial establishments include:
Manila Southwoods Golf and Country Club
One Evotech
Two Evotech
Seda Hotel Nuvali
Nuvali Lake
Paseo de Santa Rosa
The Fields of Nuvali
Alabang Town Center
The Country Club
Festival Supermall
Laguna Technopark
Ayala Greenfield Golf and Leisure Club
Solenad 1. Nuvali
Solenad 2. Nuvali
Solenad 3. Nuvali
Sta. Elena Golf Club
Lakeside Evozon
Canlubang Golf and Country Club
Wakepark Nuvali
 
Schools – Education is the key to life, and anyone who gets it in its best quality form knows their future prepared.  This is why parents will not compromise the quality of the education provided.  Woodhills Setting is surrounded by many schools presenting the parent a chance to choose what's best for their children.  The quality schools include:
 
University of the Philippines – Los Banos
Everest Academy
PAREF Southridge
PAREF Woodrose
Miriam College
St. Scholastica's College – Westgrove
Xavier School
Ateneo Graduate School of Business
Brent International School
Beacon Academy   
De La Salle Santiago – Zobel School
De La Salle University – Canlubang
 
Churches – Most Filipinos are religious and would love to continue visiting worship places that are close to them especially when they move houses.  Moving into Woodhills Setting should not discourage any church goer as there are opportunities to find new churches and make them their home. The churches include:
 
St. Benedict
St. John Bosco Parish Church
New Valley Baptist Church
 
Hospitals – The well-being of every humankind is a priority in every kind of setup.  When homes are developed, hospitals are a key factor that is considered ensuring each can access quality healthcare around the corner.  The hospitals within the location of the Woodhills Setting are:
 
Asian hospitals
South Luzon Medical Center
 
Security – This 1,860 hectare gated community is exclusively given 24/7 security.  An entrance manned by armed guards is the only way to access and exit from this property to ensure everyone is kept safe.  The high walls secured by an electrical fence is also a security measure that has been put into effect.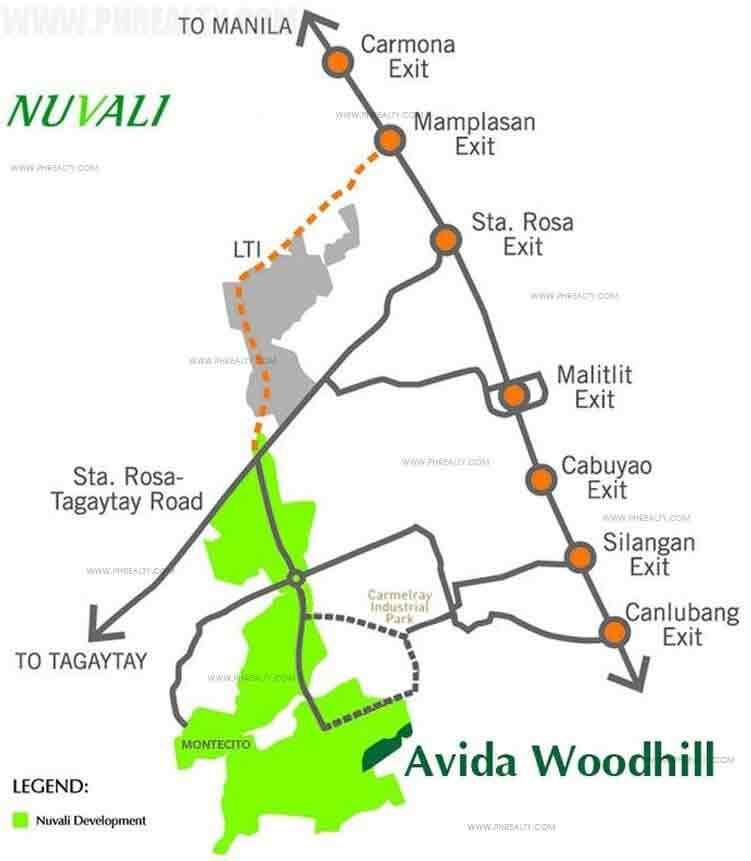 Woodhill Settings is only about 25 km (or 30 min) away from Alabang and 40 km (about 50 min) from Makati. It is easily accessible via the Sta. Rosa, Eton City or Canlubang exits. In addition, residents of Woodhill Settings are given special access through the Mamplasan Exit. It is also accessible via the Sta. Rosa-Tagaytay Road.
Location Highlights:
Avida Woodhill Settings is close to schools, healthcare facilities, shopping malls (Imall and Santana Rowe Commercial Complex), banks, business districts, commercial establishments, and recreational facilities. It is just a stone's throw away from the Nuvali campus of Mirian College, the Republic Wake Park which offers many exciting amenities, and a planned commercial center that would soon rise in the vicinity. At the entrance of Nuvali Sta. Rosa, you can enjoy shopping and dining with you family and friends at the Solenad 1, Solenad 2, and Solenad 3.